Politics and Petticoats: The 18th Century in Film
by Eleanor M. Farrell

Costume of the eighteenth century clearly demonstrates the role of clothing in the establishment of socio-economic status, and the social and political upheavals of this historic period are reflected in changes of style. From the lavish finery of Louis XIV's Versailles to the Directoire government of post-Revolution France, fashions of the eighteenth century intrigue us with their incorporation of Rococo, neoclassical, and Oriental elements. Unlike some earlier (or later) periods, the styles are almost universally attractive and relatively comfortable to wear.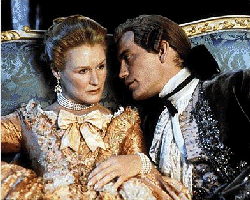 Fascination with the lavishness of mid-18th century style has led to a wealth of recent films whose conceptual approach has included -- if not actually emphasized -- the conspicuous consumption characterizing the period. Both the 1985 Mozart biography Amadeus and 1989's Dangerous Liaisons won Oscars for their costume design (by Theodor Pistek and James Acheson, respectively). In fact, Dangerous Liaisons is considered one of the greatest costume flicks of all time, from the stunning opening credits which show the male and female leads (French nobles of the 1740s) being dressed by their armies of servants. A second film treatment of Choderlos de Laclos' novel, Valmont, was made almost simultaneously. This version has more romantic, less formal costumes (again by Theodor Pistek) and is generally thought inferior in screenplay and acting, although each film has its supporters. Also worth watching: the 1991 BBC/Masterpiece Theater production of Clarissa (based on the 1747 novel by Samuel Richardson; more of a downer than Dangerous Liaisons and less witty, but with uniformly fine acting and spectacular costumes), and the Poldark television series from the late 1970s (set in Cornwall from 1783 through the early 1800s and including characters from all walks of life, from miners to royalty).

Other mid-18th century period films with Academy Award-winning costumes include Stanley Kubrick's Barry Lyndon (1976) and Federico Fellini's Casanova (1977), both of which -- along with the more recent Ridicule -- are more interesting for their cinematography and costumes than for their plots. At the other end of the spectrum is Marie Antoinette, a lavish 1938 spectacle with over-the-top "Hollywood Rococo" costumes by Adrian to compliment its very silly, decidedly pro-royal, script.

The French Revolution has inspired some of the most stirring adventures in literature. There are several available film versions of the exploits of Baroness Orczy's swashbuckling Scarlet Pimpernel, including a new A&E series starring Richard Grant. The 1935 Leslie Howard film is entertaining, but the 1982 television movie with Anthony Andrews (who removes offending pieces of his opponent's clothing during one duel) has better costumes. Charles Dickens' A Tale of Two Cities has also been filmed more than once; check out the 1989 British version with James Wilby as Sidney Carton. For a bit of comic relief, try The Black Book (aka Reign of Terror), a 1949 "historical noir" about Revolution spies that won the 1998 BAERS Silly Costume Movie Award.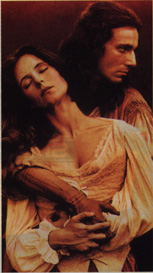 The American Revolution has fared rather less well, cinematically speaking, than contemporary affairs in Europe. The life and times of Thomas Jefferson have been portrayed in more than thirty films, from D.W. Griffiths' 1924 epic, America, to the recent Jefferson in Paris (costumed by Merchant-Ivory regulars Jenny Beavan and John Bright). Unfortunately, most of these films aren't actually very good, and lack even any ostentatious costuming to recommend them.

Drums Along the Mohawk, John Ford's film set at the beginning of the Revolutionary War and starring Henry Fonda and Claudette Colbert, has surprisingly accurate costumes for a movie made in 1938, as well as an exciting story line. Another film about this period, 1776, is a bizarre 1972 musical (based on a Broadway play) centering on the bickering among Continental Congress delegates before voting on America's independence from England. The costumes are definitely perioid rather than period: something you'd find in the costume rental department of, say, K-Mart, with triangular dress panels representing stomachers and the like. Michael Mann's 1992 production of The Last of the Mohicans takes place a few decades earlier, during the French and Indian War, and does an excellent job with both uniforms and utilitarian clothing for both men and women.

There are a few good sources for period costume films, in print and on the web. Start with:



Maeder, Edward, Hollywood and History: Costume Design in Film. New York: Thames and Hudson, 1987. ISBN 0-500-01422-1.



Fraser, George MacDonald, The Hollywood History of the World. New York: William Morrow, 1988. ISBN 0-688-07520-7.



Men With Big Hair

The Colonial Movie Critic

Return to Celluloid Wrappers.