Feature Presentation: The Avengers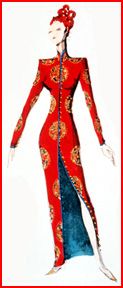 The upcoming August release of The Avengers, a remake of the 1960s cult TV classic, may offer the coolest film costuming of the year. The movie's costume designer is Anthony Powell, a three-time Academy Award winner (for Travels with My Aunt in 1972, Death on the Nile in 1978, and Tess in 1979), who has taken the unique sartorial styles of Emma Peel and John Steed forward (sort of) into an updated but definitely not reality-based '90s setting.



The Avengers official web site features over a dozen images of Powell's costume sketches for the film. Definitely high-tech, and a fun place to visit.



Want to dress like Steed or Peel yourself? J. Peterman is offering quality reproductions of seven costumes and accessories from the film, based on Anthony Powell's designs. Prices range from $98 for a bowler to $2000 for a faux leatherette cat suit.



The September '98 issues of Femme Fatales and Cinefantastique magazines feature several Avengers articles, including material on the new film and retrospectives, with photos of all of the Avengers' female agents from Honor Blackman to Uma Thurman. (Of course, we all know that there's only one Emma Peel....)



The Avengers Unofficial Home Page has a plethora of photos and information on the television series and the '98 film release.



Videotapes of classic Avengers episodes featuring John Steed and Emma Peel are at last available! (You can replace those scratchy third-generation versions dubbed from A&E....) Individual tapes (with two episodes) or three-tape sets can be purchased via our link to Reel.com.


---

Return to Celluloid Wrappers.