When Costumes Collide
by Eleanor M. Farrell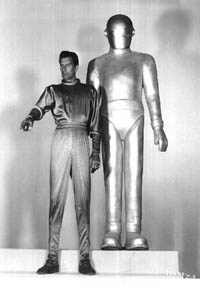 As science fiction began its boom as a print genre, with the popularity of the pulp magazines in the 1930s and '40s, surprisingly few films were being made that explored space travel, alien worlds, and other SF themes. "Surprisingly" because the earlier films Metropolis (1926), Things to Come (1936), and the Buck Rogers and Flash Gordon serials were both popular and well-executed treatments. Whatever the cause, this famine period ended (with a bang) in 1950 with the release of Destination Moon, considered the forerunner of renewed interest in the genre. When Worlds Collide followed in 1951; both of these films feature man going into space. A much more interesting scenario -- especially from a sartorial viewpoint -- is aliens visiting earth, and the first in a series of shiny-fabric-clad visitors landed, accompanied by the omnipresent gleaming robot, in 1951 on The Day the Earth Stood Still. Stockpiles of black and silver metallic thread have been diminishing ever since.

During the '50s, the biggest movie costume designers took a hand at creating alien and space garb. Edith Head designed When Worlds Collide and War of the Worlds (1953), while Travilla was hired for The Day the Earth Stood Still. Most influential, however, was Walter Plunkett, the Oscar-winning creator of the Civil War-era costumes for Gone With the Wind, who designed the men's costumes for the greatest science fiction film of this period, Forbidden Planet (1954). A futuristic version of Shakespeare's The Tempest, the plot revolves around a spaceship crew sent to rescue stranded colonists on the distant planet Altair-IV, but who find Morbius, the only survivor, living comfortably on this dead world with his beautiful daughter Altaira and their servant Robby the Robot, and mysteriously unwilling to leave.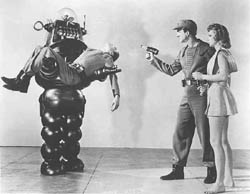 Plunkett's designs are variants of traditional military uniforms, blue-gray in color, well-tailored with padded shoulder epaulettes, wide black leather belts, pant legs loosely tucked into boots, and a stylish jacket with a V-shaped trapunto front treatment. This very effective design approach served as a prototype for futuristic film and TV uniforms for the next five decades (and probably beyond). Altaira, like Shakespeare's Miranda, is a na´ve but curious young woman whose only human contact has been her father. Her self-designed ensembles (actually by Helen Rose) constructed by Robby -- who can easily manufacture even diamonds on demand! -- have been just as influential to subsequent science fiction women's wear. Short, full skirts, scoop necks, stretch fabrics with inset gems, beads and sequins: these became the defining uniform of alien females, on large and small screens, their main objective presumably to drive earth men wild.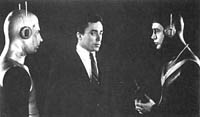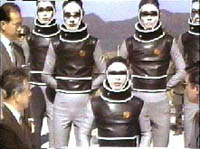 Meanwhile, aliens visiting our own planet were outfitted by definitely funkier couturiers. The X-chromosome-desperate emissaries from the Red Planet in Mars Needs Women (a 1966 TV movie) arrive in wetsuits, sporting miniature red transister radios over each ear, and express their disgust with the anachronistic Earth fashion of men's ties. Vinyl vests and swim caps, along with Devo-esque decorative air filter collars, identify aliens from Planet X when they stop by to borrow Godzilla and Rodan (Godzilla vs. Monster Zero, 1966). (As an aside, probably the most stylish characters in the entire canon of Japanese monster movies are the Alilenas, tiny twin princesses who keep Mothra in line while wearing identical pink fur-trimmed Jackie Kennedy suits or strapless gowns with paisley motifs.)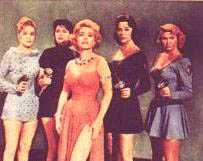 Amidst the largely monochromatic practicality of otherworldlywear for this period, two stunning exceptions, released a decade apart, must be noted. Queen of Outer Space (1958), despite making use of recycled uniforms (and one of Altaira's minidresses) from Forbidden Planet, solves the mystery of the origin of the clouds surrounding the planet Venus. It's chiffon. Laurie Mitchell as the Wicked Queen Iliana and Zsa Zsa Gabor as Talia the Earthman-friendly scientist (!) struggle for control of their Amazon culture wearing a succession of jewel-encrusted, diaphonous gowns. (Thomas Pierce is credited with designing Gabor's dresses.) Chased around the palace in their high heeled sandals and trailing scarves by a posse of guards in Star Trek-hued minidresses and clear plastic boots, Zsa Zsa and her rebels are truly awe-inspiring.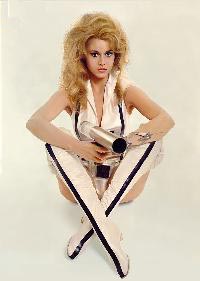 In fact, probably the only competition for this futuristic fashion plate is Jane Fonda as Barbarella (1968), in Roger Vadim's hallucinogenic space romp. Of all the science fiction films ever made, this is probably the only one capitalizing on the intrinsically fantastic nature of haute couture. The film's costumes (by Jacques Fonteray) are very much a product of the period with their peek-a-boo shiny vinyl bodysuits and fake fur trums, but surprisingly not out of place in these alien comic book worlds.

With the release of 2001: A Space Odyssey, 1968 is considered to be a breakthrough year for science fiction film. Later efforts such as Blade Runner, the Star Wars films, Tron, and more up through last year's The Matrix, have made use of new and sophisticated approaches in all areas of filmmaking, including costume design. The future of SF movie costume is definitely an exciting prospect ... but probably not anywhere as much fun as these wonderfully tacky early decades.

References:

About.com Classic Movies: Horror and Science Fiction

Lewis, Shane, "Space Costume: In Search of a Plan." M/C Reviews 7 July 1999. Web: http://www.uq.edu.au/mc/reviews/features/starwars/costumes.html

Nichols, Peter, The World of Fantastic Films: An Illustrated Survey. New York: Dodd, Mead & Company, 1984.

Maeder, Edward, Hollywood and History: Costume Design in Film. Los Angeles County Museum of Art, 1987.

Stomp Tokyo Video Reviews

Weldon, Michael, The Psychotronic Encyclopedia of Film. New York: Ballantine Books, 1983.



---
Return to Articles index.

Return to Celluloid Wrappers.