Film Review: Dangerous Beauty
by Eleanor M. Farrell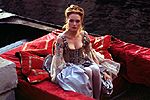 Dangerous Beauty, from thirtysomething director Marshall Herskovitz, purports to tell the true story of Veronica Franco (Catherine McCormack), a 16th century Venetian poet who, as a popular courtesan, exercised considerable influence over the politics of this Italian city-state. Unable to marry socially superior Marco Venier (Rufus Sewell), Veronica is advised by her mother Paola, a retired courtesan, to take up the profession as a means of supporting the family as well as of winning the man she loves, as a mistress rather than as a wife. Along the way, Veronica becomes the toast of Venetian male society, saves the city from invasion by her sexual expertise with Henri III of France, and survives both the plague and the Inquisition.

Franco may have been a real person, but I bet her life was more believable (and more interesting) than this soap operatic fluff. The Honest Courtesan by biographer Margaret F. Rosenthal, on which the film was based, emphasizes Franco's intellectual accomplishments, and in the film, Veronica's mother (portrayed with grace by Jacqueline Bisset) convinces her daughter to become a courtesan by promising her access to the city's libraries. However, once her career begins, the only time Veronica is shown with a book is when she reads her own poems, published by patron Domenico Venier (Fred Ward, obviously having fun as Marco's powerful uncle). In a ludicrous and overlong scene, Veronica bests Marco's brother Maffio (Oliver Platt) in a "sword&poetry" duel (I hope this doesn't become a trend...), leading to a reconciliation with Marco, followed by war, the plague, and a revival of religious zeal. (Who says poetry isn't dangerous?) Put on trial as a witch through the accusations of the humiliated Maffio (now a cleric), Veronica is saved by an excruciatingly drawn-out sex-tinged variation of the "I am Spartacus" scene from that (much better) film. McCormack and Sewell, as the suffering lovers, are not well cast and have no chemistry. Marco, in fact, is so badly characterized that one never sees just why the two are attracted to each other in the first place, much less remain devoted to each other throughout their lives.



Hey, but what about the costumes? This is a beautifully photographed film, and the costumes do justice to the cinematography and setting. Courtesans, having more freedom than well-bred and "respectable" Venetian ladies, also had considerably more license in their dress: gowns were more colorful, with increased décolletage, and platform shoes, or chopines (a style originating in Italy and which reached its height,so to speak, in Venice), allowed the courtesans to really stand out. Some rather amusing scenes in the movie, when Veronica is being trained in the courtesanly arts by Paola, demonstrate these fashions.

General styles and shapes are right for the period, and allowance can be made for Veronica's lack of corseting and wench-style front bodice lacings (for easy access and egress), although these are hardly authentic. Veronica is seen once, at one of the good ol' boy Ducal Palace functions, wearing bodice and overskirt but no petticoat (allowing her drawers to show): very similar attire to an illustration in Albert Racinet's The Historic Encyclopedia of Costumes, so costume designer Gabriella Pescucci (whose other credits include The Age of Innocence and Haunted Summer) may have drawn from the same historical sources. (Of course, the documentation illustrates the period undergarments, rather than suggests that these courtesans were the forerunners of the Madonna outer-underwear look.) Veronica's riding garb is even more jarring: in several idyllic scenes of her galloping with Marco through the countryside, she looks like a modern cowgirl in trousers, which seems hardly likely for any 16th century lady (and these scenes are set before and after her stint as courtesan). Racinet states (although he gives no references) that courtesans were not permitted to wear pearls, and the film violates this dictum. Most bemusing, perhaps, is the very tacky-looking red patch on Maffio's cassock, once he converts from wastral courtier to pious courtroom prosecutor (and pretty quickly, at that!). I presume it's some sort of Inquisitorial badge, but either the clergy employed some really bad embroiderers or the guys did their own sewing.

I looked forward to this movie as a piece of nicely decorative cinematic trash (along the lines of, say, Bad Girls), and was very surprised at the number of good (even rave) reviews from critics. That is, until I saw the film's opening scenes, when I remembered that these were all male critics, and developed my own theory: the opening credits include a parade of colorfully-dressed courtesans floating in gondolas down the canals, baring their bosoms to the cheering crowd.... I think this sight shut down the critical faculties of at least some reviewers, probably due to a backsurge of testosterone. So, shut off your own brains and take in this pretty confection; you'll want a real meal when you finish.

References:

Albert Racinet, The Historical Encyclopedia of Costumes, New York: Facts on File, Inc., 1988. ISBN 0-8160-1976-2, $40.00 (hardcover). (Selections from Le Costume Historique, a six-volume edition first published in 1888.)

Margaret F. Rosenthal, The Honest Courtesan: Veronica Franco, Citizen and Writer in Sixteenth-Century Venice. Chicago: University of Chicago Press, 1993. ISBN 0-226728129, $19.95 paperback.

Phyllis Tortora and Keith Eubank, Survey of Historic Costume (2nd edition). New York: Fairchild Publications, 1994. ISBN 0-56367-003-8, $50.00 (hardcover).

Official Dangerous Beauty web site: http://www.newregency.com/dangerous/
(Warning: requires ShockWave to view!)

Want to rent or buy your own copy of Dangerous Beauty? Click here:

---

Return to Celluloid Wrappers.