Oscars '98: Best and Worst Dressed


Monday night's 70th Academy Awards celebration was generally tame, in the sartorial sense... as Hollywood's stars opted for the muted statements and color coordination of recent years. So it was particularly nice to see Cher, a glittery sight in her newest Bob Mackie creation. One review claimed the matching headpiece of the white beaded-to-within-an-inch-of-its-life outfit looked like an air filter -- but I prefer to compare it to a piece of the Sydney Opera House, with glitz.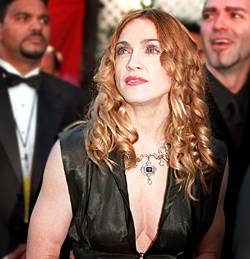 Beiges and creams, light blues, and the always basic black prevailed for gowns, sometimes combined in bizarre combination. Madonna's Goth prom dress, by Jean-Paul Gaultier, grafted a lavender tulle underskirt onto a sleeveless black creation with a bodice I suspect was borrowed from the wardrobe of Ares (Kevin Smith) on Xena. And somebody ought to remind Madonna's hairdresser that it is possible to achieve the Pre-Raphaelite look by using a brush! Worst Hair, however, goes to Sigourney Weaver: what were those spiky things sticking out the back? Leftover props from the Alien movies??? My fellow-partiers wondered if Helen Hunt was wearing a bath towel. Personally, I've seen many towels with more shape than her ice-blue Gucci tubular sheath; Hunt is just too bony for the too-severe lines and hairstyles she's been sporting at recent awards shows.

On the plus side, Minnie Driver was stunning in a ruby-colored Halston gown with matching fur stole, and, although it may have been a bit too theatrical, I liked Kate Winslet's emerald green Givenchy creation with butterflies embroidered on the sleeves. It was a nice change from the form-fitting dresses du jour, which occasionally provided unplanned amusement for the TV audience as the wearers tottered with tiny mincing steps across stage in spike heels. Kim Basinger's pale green Escada, with a full skirt and bodice reminiscent of the fifties setting of her film, L.A. Confidential, was also a treat.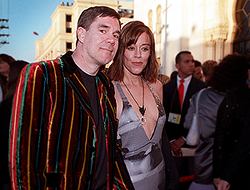 What man doesn't look good in a tuxedo? I'm glad the black-on-black and bolo tie looks have lost popularity; most of the gents were quite spiffy in their more traditional suits. My perennial favorite is Denzel Washington: he always looks good! And I also really liked the elegant black brocade vest and full tails worn by Chris Tashima, the director and star of the winning short film Visas and Virtues. Gaultier struck again here with Gus Van Sant's neon-striped jacket. Gus is a brilliant director but he lacks the panache to parade around in Steven Seagal's clothing (actually, so does Seagal but it doesn't stop him).


And the winners are:



Best Dressed Man: Chris Tashima
Best Dressed Woman: Minnie Driver

Worst Dressed Man: Gus Van Sant
Worst Dressed Woman: Madonna

Cher Award: Cher



Want another opinion? Trend analyst Tom Julian's fashion report is posted on the Oscar.com web site. Also, many photos of the Oscar-attending glitterati can be found on the Hollywood Online and Mr. Showbiz sites. Take a look!

---

Return to Celluloid Wrappers