Film Review: Ever After: A Cinderella Story
by Eleanor M. Farrell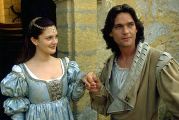 This new film, directed by Andy Tennant and starring Drew Barrymore, Anjelica Huston and Dougray Scott, is a totally charming version of a well-known fairy tale. Set within a frame in which a 19th century descendant, played by the stately Jeanne Moreau, meets with the Brothers Grimm, Ever After dramatizes the "true" story behind Cinderella's tale, which takes place in the France of the Renaissance. Young Danielle, whose father dotes on her by bringing her books from his travels and letting her fight with the neighbor boy, is a bright and loving child, eager to be accepted by her new stepmother and stepsisters when Auguste remarries. After his untimely death, however, she finds herself relegated to the status of a servant, struggling to maintain the family estate amongst the neglect and extravagances of Ludmilla, her father's widow. When she catches a young man stealing one of their horses, she beans him quite accurately with an apple, and then is appalled to find that the thief is the rebellious Prince Henry. Later, Danielle meets the prince again while, disguised as a noblewoman, she tries to recover a servant who has been sold to pay for her stepmother's taxes. The prince is intrigued by this unknown (as he thinks) courtier who speaks her mind and is filled with passion for life and justice.

The film's cinematography, costumes, and set design are all breathtaking. Shot in the Dordogne region of Southern France, the lush scenery and picturesque chateaus add to the beauty of the tale. The 16th century setting is not ill-fitted to this type of tale, and Leonardo da Vinci makes quite an acceptable substitute for the traditional fairy godmother. The period is definitely quasi-historical, however: if Francois I did bring many Renaissance figures to France, including da Vinci (who died there in 1519), the reign of his son, Henry II (who married another strong woman, Catherine de Medici, but died young after a troubled period of rule), does not quite fulfill the promise of this film's happy ending.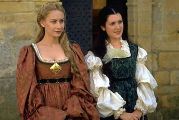 But enough of reality! What about the costumes? I'm not an expert on Renaissance clothing, but the shapes, lines and colors appear generally accurate (reflecting the Italian influence on French fashion in the first half of the 16th century), up to and including Ludmilla's balzo headdresses. Costume designer Jenny Beavan is certainly no slouch in the historical costuming department. She has been the designer for the Royal Shakespeare Company and for most of the recent Merchant Ivory film productions, winning an Oscar in 1987 for A Room with a View, with five additional nominations (The Bostonians, Maurice, Howard's End, The Remains of the Day and Sense & Sensibility). There is a lot of detail in all of the clothing, including that worn by servants and peasants. Danielle "borrows" her stepsister's gowns for her masquerades as a countess, and the observant eye will recognize Danielle in dresses worn in earlier scenes by the stylish but insufferable Marguerite. (Fortunately for Danielle, Henry -- like most men -- doesn't notice this and make the connection between the two young women.)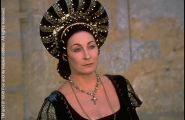 Beavan stayed with the less ostentatious early Renaissance styles (no huge farthingales or ruffs), but adds variety with rich colors, lovely brocades, and attractive styles such as the open robes championed by Catherine de Medici. The men's court costumes also use subtler Renaissance styles. Henry, in particular, eschews decorative doublets and gaudy colors. I must say that I have never seen his favored leather riding ensemble in any historical costume book -- it's more of a "Renaissance Rocketeer" jacket -- but it is gorgeous. The minimalism of Danielle's undergarments can be attributed to the demands of her strenuous everyday activities. However, her ability to dress herself in a back-laced court gown is right up there with her other unusual talents, such as quoting Thomas More and defending herself with a sword: quite impressive!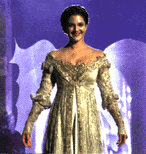 In a nice touch, Danielle's ball gown is her dowry: an heirloom from her mother, who died giving birth to her. A lovely bejewelled silver and white creation, it is scorned by Marguerite as being an "antique" but the scheming stepsister nonetheless tries to steal it to wear herself. Da Vinci creates a set of wings to transform Danielle's entrance at the ball into pure fairy tale. And, of course, there are the shoes: made by Salvatore Ferragamo, a sly touch for the benefit of the viewer who knows the sources of modern-day accessory magic. (Ferragamo also has replicas of Cinderella's slippers for sale at $2,500 -- your size not guaranteed, though.)

Although this version of the Cinderella story lacks the other usual fairy tale trappings of transformed pumpkin coach and fairy godmother, it nevertheless retains a sense of wonder necessary for the audience to believe in the story and care about what happens. That the film succeeds is largely due to Drew Barrymore's luminous performance; she thoroughly inhabits the story and brings Danielle and her world to life in a way that is timeless as well as modern. None of the other major characters are the expected stereotypes, either, but have a depth of character that defines their actions, even when these are ignominious. (Jacqueline, the younger stepsister -- played by Heavenly Creatures' Melanie Lynskey -- is a particular delight.)

Touted as an modernized version of a classic tale aimed at the teenaged female audience (to whom it does have appeal), this well-scripted and gorgeously photographed film may get lost in the summer movie maelstrom. It's well worth a look, and should make the list of superior movie versions of our favorite fairy tales.

Other Film Versions

Cinderella (1950, animated, Walt Disney): the first film exposure for many of us, it has some lovely animation but the story itself, as with many Disney treatments, takes second place to the exploits of Cinderella's mice pals. Bet you can remember the words to "Bibbity Bobbity Boo"....

Cinderella (Rogers and Hammerstein musical, originally a play). Three television film versions of this on video: a 1957 production starring Julie Andrews, a 1964 version with Leslie Ann Warren, and a 1997 update with Brandy and Whitney Houston.

The Slipper and the Rose (1976): Yet another musical version, starring Richard Chamberlain and Gemma Craven (whatever happened to her??), with a vaugely 18th century setting. Lovely costumes (except for the ball scene, which looks like a room full of moving cotton candy!). Everyone sings and dances to forgettable music by Sherman and Sherman.

Stroke of Midnight (aka If the Shoe Fits) (1990): A truly dreadful update with Rob Lowe as a haute couture designer obsessed with the enigmatic new model (Jennifer Grey) who is really the nondescript shoe designer working in his fashion house.

Even more: The Berlin Comic Opera filmed Prokofiev's ballet in 1987; the Faerie Tale Theatre series 1984 offering stars Matthew Broderick and Jennifer Beals (hopefully they don't sing); and -- for the truly desperate -- there's Jerry Lewis's 1960 Cinderfella.

References



Ever After: A Cinderella Story
Official film web site. Has photos and some production information.



Cinderella Stories
A wonderful collection of resources on the Cinderella fairy tale, compiled by Kathy Martin from the CHILDLIT mailing list.



For Ever After
A site dedicated to the film, including many images, sounds, multimedia, costume information, cast, crew, and much more. Great resources for Renaissance and fairy tale costumes!




More film reviews...



Celluloid Wrappers Main Page