Costumers Swoon at Fall Film Feast!
by Eleanor M. Farrell

Dateline: 1 September 1994

Pick a period -- any period. Odds are you will get a chance to see it portrayed (well or badly) on the big screen this fall season. Film-goers will be able to visit 16th century Europe (Nostradamus, Queen Margot) or Easter Island (Rapa Nui) as well as the 17th century settlement of the Pilgrims at Plymouth (Squanto: A Warrior's Tale) or the court of Charles II in London (Restoration). Regency aficiandos will find it hard to choose: the salons of Beethoven's Germany (Immortal Beloved), post-Napoleonic France (Colonel Chabert), English high society (Princess Caraboo) or the crazed scientist's laboratory (Frankenstein)? The American Civil War provides the setting for a new remake of Little Women, and the Old West hosts the infamous James brothers, Frank and Jesse (and more dance hall girls!).



There's a film or three for every decade in our own century: from ultra-weird turn-of-the-century The Road to Wellville to the ultra-violent '90s of Pulp Fiction. Fortunately the elegant '20s and '30s are well-represented by Woody Allen's Bullets over Broadway, Tom and Viv (a biography about writer T.S. Eliot) and an ensemble piece, Mrs. Parker and the Vicious Circle, about the famed circle of wits, including Dorothy Parker and Robert Benchley, who drank at New York's Algonquin Hotel.

Most frightening, perhaps, is the relatively large number of films set in the 1950s. Tim Burton's biography of B-movie director (and cross-dresser) Ed Wood, starring Johnny Depp, may provide a whole new costuming perspective on the Donna Reed decade.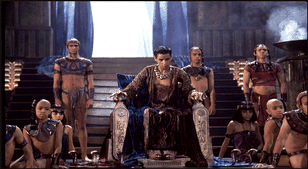 And what about the future? Generations includes the historic meeting - courtesy of Star Trek's unique scientific technology - of 23rd century Captain James T. Kirk and 24th century Captain Jean-Luc Picard. Timecop promises more generic "Terminator" high-tech, shiny metal sets, and Jean-Claude Van Damme (but haven't we already seen this on TV?). The word on Highlander III is that it's better than Highlander II (not saying much... they can bring Sean Connery's character back from the dead, but not Freddy Mercury...). Stargate has potential: described as a "bizarre convergence of Cleopatra and Close Encounters...", it has voluminous earthtone costumes [like the Outback fort people in the Road Warrior] and Jaye Davidson as an evil alien ruler. Even if the film is truly awful, how can one pass up this combination?

No, I haven't forgotten. I'm assuming our readers already know about the September release of Interview with the Vampire, which promises - at least - gorgeous 18th century costumes and the steaminess of New Orleans. Vampire fans should also be aware of a unique opportunity to see French surrealist director Louis Feuillade's 1915 silent ten-episode serial Les Vampires, one of the most convincing commentaries on the fascination of evil ever to reach the screen. The serial will be shown in 2-eipsode segments (with John Mirsalis on piao) on Sundays at 5:30 pm, October 2-30, at the Pacific Film Archive, University of California at Berkeley, 2625 Durant Street. Call 510/624-1212 for more information. Dress to the teeth!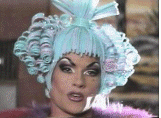 Happy viewing! And before the fall onslaught, be sure to check out the current art house crossover hit, The Adventures of Priscilla, Queen of the Desert. In a recent TV interview, the film's costume designers, Lizzy Gardner and Tim Chappel (true costumers!), proudly declared their reliance on glue and duct tape in constructing their extravagant -- to put it mildly -- creations. Where else will you see Terence Stamp in stiletto heels, or an entire frock made of neon-colored rubber zoris??

---
Article originally appeared in The Costumer's Scribe, 4:9, September 1994.
---


Return to Celluloid Wrappers.