FIDM Exhibit: Hollywood 2000
by Eleanor M. Farrell

The Fashion Institute of Design and Merchandising (FIDM) celebrates the opening of its expanded exhibit space in Los Angeles with two shows this spring, their 8th annual Art of Motion Picture Costume Design, featuring costumes from 1999 films, and a Hollywood 2000 retrospective of film costumes from the silent era to the end of the century. FIDM's extensive costume resources, enhanced by loans from several other collections, provides a fabulous retrospective: Rudolph Valentino's bejewelled bullfighter jackets from Blood and Sand, an assortment of Fred Astaire's shoes (he had small feet!), even a chariot from Ben Hur are on display. The exhibit centerpiece is the largest display ensemble of costumes from the Adrian-designed 1938 Marie Antoinette -- 9 full costumes, including the famous silver ball gown worn by Norma Shearer as Marie (the cover photo of Edward Maeder's Hollywood and History), a lovely beribboned pink corset, and the mechanical birdcage headdress featured in this lavish epic. One of the supporting characters' gowns (Mae Busch as Mme. La Motte) was even made from 18th century silk brocade fabric–it's also the costume that comes closest to approximating historical accuracy. Outstanding -- and often Oscar-winning -- costumes from The Great Gatsby (1974), two versions of Cleopatra [Claudette Colbert's 1934 barely-there costumes make Elizabeth Taylor's 1963 outfits look downright staid!], Camelot, Bram Stoker's Dracula and many more films are also included, making this a unique display of film history. And it's free!

Two additional rooms house the collection of costumes from 1999 movies, including pieces from all five of the films nominated in this category:
Anna and the King (Jenny Beavan)
Sleepy Hollow (Colleen Atwood)
The Talented Mr. Ripley (Ann Roth and Gary Jones)
Titus (Milena Canonero)
Topsy-Turvy (Lindy Hemming)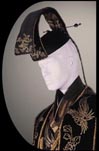 All of these designers have impressive film portfolios. Jenny Beavan (often with co-designer John Bright) has costumed most of the Merchant-Ivory historicals, winning an Oscar for the 1986 film A Room with a View. Milena Cananero has two Oscars to her credit, for Chariots of Fire (1981) and Barry Lyndon (1975). Ann Roth was honored for her work on The English Patient in 1996. Two of Colleen Atwood's films, Beloved and Little Women, received recent Oscar nominations for costume design.
Lindy Hemming is the newest of these designers to enter the Oscar race, with Topsy-Turvy her first nomination. (She received a BAFTA nomination for an earlier work, Four Weddings and a Funeral.) The FIDM exhibit showcases three of the Mikado designs: two women's silk kimonos decorated with applique and delicate Japanese-themed embroidery, and the court costume of the Mikado himself, a rich brocade of black and red dragons, plus a preposterous headdress. A lovely bustle gown from the film is displayed in one of the third floor display cases.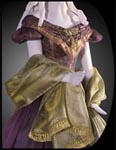 Jenny Beavan's creations for Anna and the King combine Victorian dress for the governess and her companions, plus more colorful traditional Thai costumes for the King and his court. Sari fabric is used for much of the latter, and is also incorporated into the ball gown Anna wears during the dinner party she helps prepare. This is a nice touch, combining 1860s Victoriana with local styles and materials.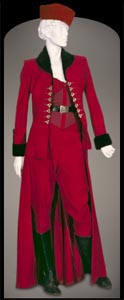 Titus is the latest in a recent series of ever-more-outrageous productions of Shakespeare plays. Combining primitive feather cloaks, metal breastplate corsets, military-inspired tailored wool suits and other diverse elements, Milena Cananero's designs compliment the striking and timeless theatricality of the movie's sets.

Colleen Atwood's costumes for Sleepy Hollow are more Goth than authentically period to the film's 1799 setting, but suit the style of Tim Burton's atmospheric tale. Black is the main theme here: the headless horseman's suit and cloak are made from matte fabrics and trims, well-distressed, with intricate detail work that can't be seen on screen. The striking black and white gown worn by Miranda Richardson's character, examined close up, proves to be an intriguing overdress of latticed black velvet rope, with an off-white patterned brocade beneath.
The final Oscar entry, The Talented Mr. Ripley, is represented by a suite of four outfits worn by various characters (including Jude Law's black shirt/shorts outfit and a sundress ensemble worn by Gwyneth Paltrow seen in many of the film's trailers). The film is set in 1956 but these clothes themselves do not evoke any particular period (in contrast to, for example, the delightfully '50s costumes from last year's Pleasantville).
In addition to the five Oscar-nominated films, several other movies released in 1999 are represented in the exhibit. These include the Jane Austen adaptation, Mansfield Park, set in Regency England; the 2000 BC Chinese epic The Emperor and the Assassin; Flawless, which features drag queen chic; around-the-turn of the century historicals The Winslow Boy, An Ideal Husband, Miss Julie, Onegin, and Wild, Wild West. An unusual inclusion is a display of hand-drawn paper patterns–and fabric pieces–for the main character in Stuart Little. Although Stuart is a digital mouse, the artists used these patterns to create costumes for him, also digitally, that would move like real fabric constructions.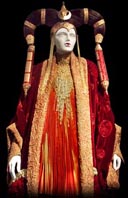 Finally, the exhibit presented eight costumes from Star Wars: The Phantom Menace. In contrast to the low-budget polyester-and-burlap ensembles worn in the first Star Wars films, director George Lucas put a great deal of effort into creating the alien cultures for his new epic, particularly that of the Naboo ruled by Queen Amidala. These looked fabulous on film, and even better on FIDM mannequins. Trisha Biggar and her crew combined fabric painting, subtle dye techniques, draping, pleating and serging to create some stunning costumes with opulent velvet fabrics. Several of the most ornate Amidala costumes are included in the display, as well as robes worn by Senators, Jedi knights and Darth Maul.
Although it includes some imaginative and quality costuming, based on the films themselves as well as this exhibit, this year's slate of nominees is a bit peculiar. The absence of The Phantom Menace, for example, comments loudly on the politics of Oscar voting; the costumes from this film included in the FIDM exhibit blew everything else in the room completely out of the galaxy. On the other hand, the Mr. Ripley display would have been more in place in a Saks store window. For the first time in several years, the artistic/technical nominees are not front-runners for the top film awards, most of which are stories with contemporary settings. My costume design vote (had I been given one) this year would go to Topsy-Turvy, whose designers not only had to create Edwardian clothing for their historical setting, but also costumes for the production of The Mikado (whose inception and creation is described in the film) and scenes from two other Gilbert & Sullivan operas. Besides, the hilarious parallel scenes of the women's and men's dressers, arguing about corsetry with their actors, make this movie deserving of this award, all by themselves.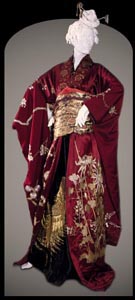 March 26 marks the date for presentation of the 72nd Annual Academy Award for Costume Design (along with those other minor kudos for best picture, acting, and the like ...). Billy Crystal hosts the event, which starts at 5:30 pm on Sunday evening. If you don't have tickets for entry to Los Angeles Shrine Auditorium, you can watch the festivities (and gawk in amazement or horror–or both–at the sartorial splendor of presenters and nominees) on ABC. The FIDM exhibit runs through April 28th, and is well worth the plane fare to Los Angeles; check the institute's web site at www.fidm.com for details on exhibit hours, directions, and an outstanding collection of images from the exhibits.
---
Return to Celluloid Wrappers