Spectacular Worlds Tour
FIDM 10th Annual Art of Motion Picture Costume Design Exhibit

by Eleanor M. Farrell



Ongoing at the Fashion Institute of Design and Merchandising (FIDM) museum gallery in downtown Los Angeles: "The Art of Motion Picture Costume Design Exhibit: Films of 2001." In celebration of its 10th anniversary, the gallery entryway is lined with a row of mannequins dressed in representative costumes from each of the Oscar winners from 1992 (Bram Stoker's Dracula) through 2000 (Gladiator). This delightful collection of past glories leads into the new FIDM exhibit, showcasing costumes from 20 films released in 2001, including the five Oscar Costume Design award nominees. It's a dazzling display, from spot-on period ensembles to more fanciful interpretations of other-worldly couture, representative of the wide variety of celluloid settings created by filmmakers in 2001.

The five films nominated for the Costume Design Oscar -- The Affair of the Necklace, Gosford Park, Harry Potter and the Sorcerer's Stone, The Lord of the Rings: The Fellowship of the Ring, and Moulin Rouge -- presented a wide range of design challenges and approaches (as well as some of the longest movie titles of recent note!). Viewing the exhibit selections up close shows how each designer has succeeded in creating wardrobes to match the film's settings, mood, and characterizations.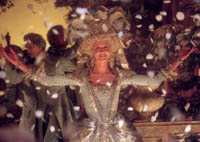 Among the five nominees, The Affair of the Necklace, a story of court intrigue set in late 18th century France, is probably the least-known (short theatrical run, not yet available on video). Two of designer Milena Canonero's embellished brocade gowns, one of which includes a pert birdcage hat, are on display; these are nicely done but nothing we haven't seen before in many recent period films.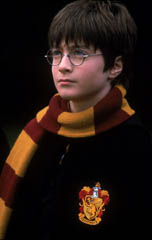 The Harry Potter exhibit includes some period livery and ghostly attire (Nearly Headless Nick's is identifiable by the bloody neckline), as well as Harry's natty Hogwarts blazer and a Griffindor Quiddich uniform, both complete with crests. Designer Judianna Makovsky's designs compliment the film's sets to satisfactorily bring J.K.Rowling's popular novel to the screen.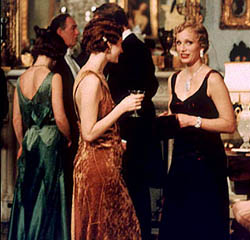 Gosford Park designer Jenny Beavan -- no stranger to period costume demands, having won seven Oscar nominations with an Academy Award for A Room with a View -- has done another outstanding job with both "upstairs" and "downstairs" 1930s fashions, from servants' uniforms to a garden of lovely dinner gowns worn by Sir William McCordle's guests. The display highlight is a selection of four evening gowns, each of which is perfectly period and completely individual. My favorite is a green crepe bias-cut dress with lace and satin insets, which could be mistaken for a vintage piece; it was worn by Mabel Nesbitt (wife of the less-than-Honorable Freddie) in the film. The exhibit also includes an exquisitely tailored woman's suit (with an amazing fur collar), and a gentleman's shooting outfit and evening formalwear.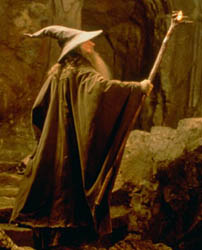 Ngila Dickson and Richard Taylor share costume design credits for The Fellowship of the Ring, emphasizing the amount of effort and attention to detail which characterizes this film's costumes. For example, Galadriel's white gown is completely embroidered in chain stitch and then covered with seed beads, which gives it a very rich texture. Etched designs cover Sauron's armor, which is also fantastically articulated. Even the rugged travel garb worn by the members of the Fellowship shows the meticulous work of the designers, from Aragorn's whetstone belt sheath to Gandalf's pipe nestled safely inside the top of his staff.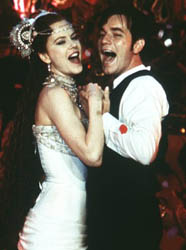 Moulin Rouge collaborators Catherine Martin and Angus Strathie incorporate elements of both the historical and the fantastic in their exuberant designs for the bohemian underworld of 1890s Montmarte. Seven costumes are on display, including some colorful can-can dresses, festooned with sequins and ruffled petticoats, Harold Ziegler's outfit as Master of Ceremonies, and three of courtesan Satine's show-stopping creations. What appears on screen as a simple white sheath of sari fabric is actually elaborately cut and draped with a train, and laced up the back. The "Sparkling Diamond" piece includes "tails" of shimmering silver bugle beads, and a "shooting star" motif on the bodice is repeated on the matching shoes. Oh, yes -- a replica of the necklace given to Satine by the Duke, also showcased, is enough to make anyone sing and dance.


Sharing the rest of the gallery space are costumes from Ali (covering the champion's tumultous 1964-1974 decade), The Man Who Wasn't There (1949 noir), Zoolander, Kate & Leopold (lucky for Kate her modern ballgown's bustle effect was perfect for time-travelling), Pearl Harbor, and more. Caroline Harris's playful designs for A Knight's Tale combine elements and fabrics from several 20th century decades (some of them scary). Colleen Atwood's costumes for Planet of the Apes, elaborate and well-detailed, made me rent the movie just to check out human-friendly ape Ari's stylish couture. Unfortunately the film spent much more footage on grunge than style, although even the scantily-clad human female lead took time to embellish her rags with mother of pearl.

When you visit, don't forget to go up to the third floor display cases, which focus on Marlene Dietrich's film and personal wardrobes, including designs by Jacques Fath, Irene, Christian Dior, and Jean Louis which are just as stylish today as they were in the 1940s. Canny woman!

The 74rd annual Academy Awards will be presented on Sunday, March 24th, 2002 at the Kodak Theater at the Hollywood & Highland complex in Los Angeles), and broadcast live on the ABC television network starting at 5:00 p.m. (PST) / 8:00 p.m. (EST). The half-hour arrivals segment preceding the presentation ceremony should get us all in the mood for scrutinizing this year's fashion faux pas.

The FIDM exhibit runs through May 3rd, and is well worth the plane fare to Los Angeles; check the institute's web site at http://www.fidm.com for details on exhibit hours and directions. An on-line photo gallery of the exhibit is promised (but was not yet available at the time of writing this article).




Costume Design Oscar Nominees


Links



Fashion Institute of Design and Merchandising

Official Oscar Awards web site
---
Return to Celluloid Wrappers