1991 Cinema Costume: An Opinionated Review
by Eleanor M. Farrell


1991 wasn't a great year for costume design in the movies, especially following the gorgeous achievements of films such as Cyrano de Bergerac, Hamlet, and Dances with Wolves in 1990. The best-looking historical costumes are probably to be found in Impromptu, a witty look at the mid-nineteenth century Paris of George Sand, Frederick Chopin, and Franz Liszt. Madame Bovary, released in December, is beautifully photographed and has some stunning outfits, at least from the point where Emma gets so bored she starts going into debt to the local dressmaking mafia, but be warned that the film itself is long and tedious. A much better bet is to watch for showings of a charming film about a Chinese woman bought by a brothel owner in a late nineteenth-century Western mining town, and her fierce struggle for independence. Thousand Pieces of Gold was made by Bay area filmmakers in Montana with a very authentic period look, including some nice costume designs.

Stepping back in time into the somewhat obscure Hollywood version of the twelfth century, Robin Hood: Prince of Thieves does have some costumes worth drooling over, like the black and silver outfit Marian wears for her wedding to the Sheriff, and Nottingham's costume in black leather (always a fashion statement). Lots of studs; also tattered wools in browns and greens, for the outlaws, but why are they all wearing mufflers?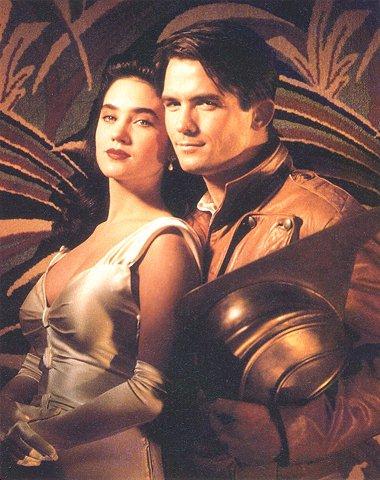 The twentieth century got more attention in '91 films, especially the '30s and '40s Hollywood look in the newest crop of ganster flicks. There are some nice slinky gowns in Bugsy and The Rocketeer, amongst some tasty Art Deco sets. Bette Midler covers five decades from the 1940s in For the Boys, but her best outfit is an RAF captain's jacket she wears on stage after her own gown is torn. What really worries me is the recent popularity of what I hope will not become a new trend: Waitress Chic. These outfits popped up in Thelma and Louise, Frankie & Johnny, and Fried Green Tomatoes. What's next, bowling shirts?

I can't say much for film costumers' visions of the future, although if you're looking for something to do with all that foam packing that came with your stereo equipment, you might want to check out what the students at the University of B&T are wearing in the 27th century segment of Bill and Ted's Bogus Journey. They must be hot, but at least they're colorful. There's no color at all, and less style, in Terminator 2, but then, there isn't really much of a future, either. At least Ridley Scott's designers used some imagination in Blade Runner; and the newly released "director's cut" of this visually stunning film makes it well worth another look.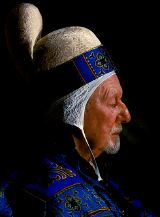 Fantasy films, though few in number, provide a bit of inspiration. The campy Addams Family will probably fuel a new crop of hall costumes, whereas Star Trek IV came up with some intriguing new Klingon designs. In the art film realm, Peter Greenaway's latest, Prospero's Books, has a lot of beautiful and amazing pieces of costumes, some of which are actually on some of the actors. The magician's robe, source of some of his powers, is quite magnificent (and John Gielgud, who plays Prospero, said it was very heavy). David Cronenberg's vision of William Burroughs' Naked Lunch sets new standards for any costumers interested in creating bug creatures.

Personally, I liked the colorful flowing robes in the Hong Kong Chinese Ghost Story fantasies (Parts 2 and 3 were both released in 1991). The characters in these films spend most of their time flying around (when they're not sword surfing or fighting giant centipedes), which sets off the layers of silks and brocades to their best advantage.

With luck we have something to look forward to in 1992: Francis Ford Coppola's new film version of Dracula, several movies celebration the voyage of Christopher Columbus, which may bring bak the fashions of the 15th century (who knows?), the Batman sequel, a very depressing-looking future in Alien 3, and, hopefully, a few gems that no one expects. Till then, keep watching the video stores!

Article originally appeared in the February/March 1992 issue of The Costumer's Scribe.
---

Return to Celluloid Wrappers.