Costume in the Movies: 1992
by Eleanor M. Farrell


Monday, March 29th, is Oscar night, and many of us costumers will be gathered around out TV sets, waiting with 'bated breath to find out which stars will display new lows in fashion sense with their Academy Award ensembles. Oh, yes, there will also be an Oscar presented for Costume Design. This year's nominees are Bram Stoker's Dracula, Enchanted April, Howard's End, Malcolm X, and Toys (Toys??!)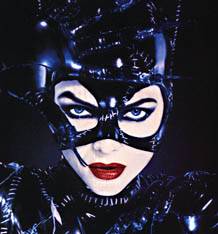 I wouldn't call 1992 a great year for costume in films. The science fiction genre was particularly grim -- I think Alien 3 was designed by mail order from Army surplus outlets. One bright spot was the inspirational scene in Batman Returns where Catwoman ransacks her apartment to create her "new look" by ripping apart an old vinyl raincoat. I'm sure that evoked a sympathetic response from many of us with limited budgets!

Although several past periods are adequately represented by the nominees, I was more impressed with the meticulous attention to 18th century historical detail in The Last of the Mohicans, which wasn't nominated. On the other hand, there was 1492: Conquest of Paradise. (There were actually two Columbus films released in 1992, the 500th anniversary year, but nobody -- possibly not even the filmmakers themselves -- saw the other one.) While Columbus was off travelling to the New World without even a spare shirt, the court of Isabella of Spain was obviously visited by emissaries of the goddess Glitziana, bearing gifts of gold lamé. Only Armand Assante's character (I forget his name) managed to retain any sartorial dignity.

Both Howard's End and Enchanted April demonstrated the high quality of historical costume design we've come to expect from British productions, and those by Merchant/Ivory in particular. I preferred Enchanted April's costumes myself: they seemed to augment the indivuality of each character in the film.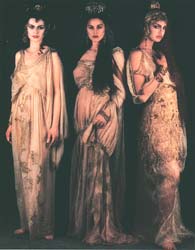 For this year's Oscar, my vote goes to Bram Stoker's Dracula. Whatever the film's flaws (yes, there are some, but nobody can agree on what they are), director Francis Ford Coppola's production approach of integrating film technique, set, and costume into a carefully crafted artistic vision is certainly unique in modern filmmaking. Coppola initially wanted the costumes to be the film sets, and although he found it necessary to modify this idea, his collaboration with designer Eiko Ishioka has resulted in some gorgeous and original costume creations. (Check out the amazing book Coppola and Eiko on Bram Stoker's Dracula, if you haven't already done so!).

Article originally appeared in the March 1993 issue of The Costumer's Scribe.


Follow-up: Oscar Awards Report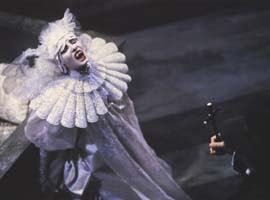 Bram Stoker's Dracula won the 1992 Oscar for Costume Design (as well as those for Makeup and Sound Effects), so there is some justice. But to cut to the really important part of the Academy Awards ceremony, the evening did have some notable fashion entertainment value. Andie McDowell in her beige flapper ensemble was a leading candidate for both best and worst dressed, depending on whom you asked. Robert Downey, Jr., was probably the most interestingly-dressed mail, kind of "neo-Edwardian grunge" in a black velvet jacket. Some people I polled actually liked Natalie Cole's red cocoon wrap, but most of the people at the party I attended thought she looked like a refugee from Attack of the Killer Tomatoes. Catherine Deneuve was the biggest disappointment: after all those gorgeous 1930-1950 clothes she wore in Indochine, her Oscar outfit with its neckline of pink ostrich feathers was rather tacky. We ate, we drank, we made rude comments: what else are the Oscars all about?


---
Return to Celluloid Wrappers.