Attack of the 66th Oscars
by Eleanor M. Farrell


The Motion Picture Academy of Arts and Sciences -- that oh-so-fun group! -- will present its awards for 1993 film achievements on Monday, March 21st. This year's list of nominees for Costume Design was easily predictable and entirely respectable: The Age of Innocence, Orlando, The Piano, The Remains of the Day, and Schindler's List. I've seen all of these, and read the published list with none of the usual mutterings of "What? Were they on drugs again?" Once more, the nominations were heavy on the historicals: are all the SF&F film costumers too busy working out the color palettes appropriate for the newest permutation of Star Trek forehead appliances?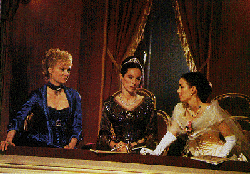 Last year's movie crop produced a charming new eroticism based on period underpinnings, glove buttons, and serious food consumption. This beats the heck out of bimbo starlets without any underwear, and, if I may quote my favorite film reviewer, Libby Gelman-Waxner of Premiere magazine, "... the notion of Daniel [Day-Lewis] and expensive women's footwear in a single frame was almost too much for me -- it's my idea of an orgy."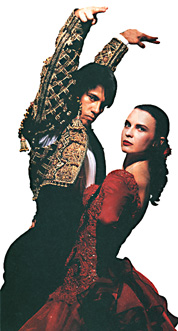 Speaking of food, the costumes in the Spanish-language art-house blockbuster Like Water for Chocolate aren't too shabby, either. Other visual delights from 1993 to check out include The Joy Luck Club, Much Ado About Nothing (lots of gorgeous men in black leather), Farewell My Concubine, and Wide Sargasso Sea, all of which are or will soon be available on video. My top recommendation for the ultimate new costume flick is, however, Strictly Ballroom: more glitz than is legel in several states, amazing feats of architectural hair-styling, and a lot of fun to boot!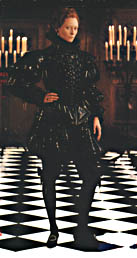 My Oscar bets? Hard to choose between Martin Scorsese's opulent excess and attention to detail in The Age of Innocence, versus Sally Potter's exuberant romp through four centuries of exquisite garments (do you think Orlando changed sexes because men's clothes got boring?) for Orlando. But, like most costumers, I watch the Academy Awards mainly to see how badly the presenters and winners are dressed. With Whoopi Goldberg replacing Billy Crystal as MC this year, the possibilities are staggering!

Article originally appeared in the March 1994 issue of The Costumer's Scribe.

---
Return to Celluloid Wrappers.