Costumes from Out of This World
by Eleanor M. Farrell


Dateline: March 20, 1995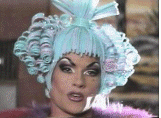 It's Oscar time again -- the Motion Picture Academy of Arts and Sciences will present its awards for 1994 film achievements on Monday, March 27, 1995. The five nominees for Costume Design this year are: The Adventures of Priscilla, Queen of the Desert (Lizzy Gardner and Tim Chappel), Bullets Over Broadway (Jeffrey Kurland), Little Women (Colleen Atwood), Maverick (April Ferry), and Queen Margot (Moidele Bickle).

Continuing the Academy tradition of ignoring science fiction, Priscilla is the only film nominated in this genre. (As someone who has spent the night in the Outback -- sleeping in the bed of a dump truck, surrounded by pit bulls -- I can assure you that parts of Australia are not on this planet.) Only five (admitted) science fiction films have ever been nominated for Costume Design Oscars since the award was first handed out in 1948. These include Planet of the Apes in 1968, Star Wars (the only winner) in 1977, The Swarm (!) in '78, Tron in '82 and 2010 in 1984. Students and aficiandos, however, know that science fiction costuming is often exciting and innovative, and always fun.


Among the top costume designers for science fiction and fantasy films are Danilo Donati, who out-glitzed Bob Mackie with his designs for Flash Gordon (1980), and Charles Knode and Michael Kaplan, who created the "retrogrunge" look for Blade Runner. John Mollo won an Oscar for his Star Wars costumes, and went on to design for The Empire Strikes Back, Alien, and even Ghandi. Bob Ringwood's creative genius can be seen in his designs for such films as Dune, Excalibur, and The Shadow, incorporating historical European, Oriental, and "industrial fetish" elements to create truly original costumes.

Two of the most prolific movie costume designers in the science fiction and fantasy genres are Jean-Pierre Dorléac and William Ware Theiss. Dorléac is best known for his Emmy-winning costumes for the television series Battlestar: Galactica, and he also created the costumes for Quantum Leap. Dorléac's feature film work includes Buck Rogers in the 25th Century, which he calls "[t]he film that introduced stretch spandex pants. Little did I know that I would be responsible for seeing oversized derrieres crammed into the likes of such for years to come." His only Oscar nomination was for the historical time-travel romance Somewhere in Time in 1980.

William Ware Theiss was the costume designer for the original Star Trek series, and also did some work on other Gene Roddenberry projects including Star Trek: The Next Generation, Genesis II, and Planet Earth. Daring lines and movements, fantasy fabrics and sparse creations barely able to cover the bountiful female alien form were Theiss trademark. Theiss was nominated for an Academy Award in 1983 for the racing biography Heart Like a Wheel.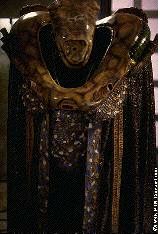 In addition to the continuing work of some of the above-mentioned designers, there are some exciting new projects worth checking out. One of these is Babylon 5, whose costumes are an intriguing combination of historical, folk and fringe clothing elements. Catherine Adair designed the costumes for the television pilot film, citing Blade Runner, The Road Warrior, and Buckaroo Banzai among her personal influences. The current series costume designer, Ann Bruice Aling, is continuing Adair's vision of creating a separate identity for each alien race within the dark and visually complex space station setting.

There are few books adequately covering -- much less focusing on -- science fiction and fantasy film costumes. The following list of books and articles does offer some information on the artists, designs, and philosophies of costuming genre films.

Bibliography

Hollywood and History: Costume Design in Film organized by Edward Maeder (Thames & Hudson, LA County Museum of Art, 1987, ISBN 0-500-01422-1).

Screen Deco: A Celebration of High Style in Hollywood by Howard Mandelbaum and Eric Myers (St. Martin's Press, NY, 1985, ISBN 0-312-70590-5).

The Making of Dune by Ed Naha (Berkley Books, New York, 1984, isbn 0-425-07376-9).

Entertainment Memorabilia: December 12, 1993, Volume B38 (Butterfield & Butterfield, San Francisco and Los Angeles, Catalogue for Sale 5854B).

"The Secrets to Dressing the Part: Jean-Pierre Dorléac, Costume Designer" by Joanne Haug, Lady's Gallery, Vol. 11, Issue 2, October/November 1994.

"The Making of Babylon 5" by Mark A. Altman, Cinefantastique Vol. 23, No. 5, February 1993.

Article originally published in the March 1995 issue of The Costumer's Scribe.

---

Return to Celluloid Wrappers.