Oscars '97: Independents Day?
by Eleanor M. Farrell


Dateline: 20 February 1997

The 69th Annual Academy Awards ceremony is Monday, March 24, 1997, and by the time you read this, all those little envelopes will be opened and languishing in circular files at the Shrine Auditorium in Los Angeles. I hope all our readers have fun dishing the presenters at their Oscar parties. (This year, E! (the cable TV channel) even sponsored a contest so viewers can vote for the winner of 1997's wardrobe-challenged award.) Anyway, scrutinizing the rich and famous may be why we really watch the Oscars every year, but let's pretend to be serious and consider the nominees for Best Costume Design.



This year's nominees are all historical (rather than science fiction or fantasy) interpretations: Angels and Insects (Paul Brown), Emma (Ruth Myers), The English Patient (Ann Roth), Hamlet (Alexandra Byrne) and Portrait of a Lady (Janet Patterson). There are no stinkers here; although I haven't seen all of the nominated films, previews, stills and magazine articles give an indication of the care and construction which has gone into each film's costumes. In three cases, the film's costumer appears to have made a successful attempt to recreate the historical period of the film. Alexandra Byrne's designs for Hamlet reflect her desire to create an atmosphere of opulence in director Kenneth Branagh's setting for the story (vaguely late 19th century northern Europe), with many of the individual pieces inspired by Russian period styles. I haven't seen Hamlet yet (its four-hour length practically demands applying for vacation time), but I received a production packet from the studio which confirms the richness of Byrne's garments and accoutrements.


The outstanding nominee in this year's crop of pictures, however, has to be Paul Brown's authentic and imaginative costumes for Angels and Insects. In addition to adhering to historically accurate 1860s shapes and colors, as well as using correct underpinnings and accessories, the designer has also costumed each character in ensembles reflecting each personality and position in the story. Beautiful but flighty Eugenia Alabaster's costumes show off her butterfly-like nature, and as she takes over as mistress of this disturbing Victorian household her gowns reflect this metamorphosis. Poor relation Matty Crompton's dull gray and black gowns also undergo a change as this character emerges from her emotional cocoon.

The rather startling preponderance of independent film nominees this year is a sign of hope for the Academy's choices, although I must admit that recent Costume Design winners -- including The Adventures of Priscilla, Queen of the Desert in 1994 -- have frequently been one of the delightful surprises in the ceremonies. Last year's winner, Restoration, a schizophrenic mess of a film, was memorable solely for its lavishly decadent production and Sam Neill's delightful portrayal of Charles II. The costumes WERE gorgeous. The film is now available on video, and a feature article on the movie's costume designer, James Acheson, and his creations (with lots of color photos!) appears in the March/April 1997 issue of Fiberarts magazine.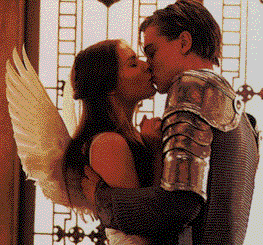 The greatest achievement in film costume design in 1996, however, was a film which does not appear on the list of nominees: William Shakespeare's Romeo & Juliet. Director Baz Luhrmann (whose other credits include Strictly Ballroom, a film with enough feathers to fly a 747 and architectural feats of hairstyling) sets the Bard's tragedy in the fantastic pseudo-modern beach town of Verona Beach. The Capulets are smooth in tattoos, black leather and silver studs, while costume designer Kym Barrett dresses the Montagues in colorful Hawaiian shirts and punk hairdos. Mercutio's famous speech about Queen Mab, made while the character is dressed in full drag for the Capulet party, takes on new meaning, and the lovers -- Juliet as an angel and Romeo in chain metal armor -- demonstrate the purity of their emotions in the midst of the conflict and chaos of a turf war. Romeo & Juliet has one nomination, for Art Direction, and I hope it wins. The entire film is a brilliantly realized vision.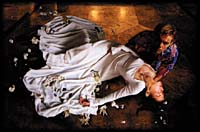 A version of this article originally appeared in the March 1997 issue of the Greater Bay Area Costumer's Guild newsletter, The Costumer's Scribe.

---

Return to Celluloid Wrappers.