Oscars '98: Elegance Abounds
by Eleanor M. Farrell

Once again, the Fashion Institute of Design and Merchandising in downtown Los Angeles has mounted a spectacular exhibit of costumes from films released in 1997, including pieces from all five nominees for the Costume Design Oscar. Ranging from the loudly garish 60s outfits of Austin Powers, International Man of Mystery to the rich brocades in traditional Tibetan costumes from Kundun, the Sixth Annual Art of Motion Picture Costume Design Exhibit is both entertaining and inspirational.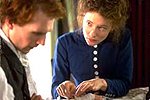 Obviously, the Academy Award-nominated designs are of most interest, and make up the bulk of the exhibit in number of pieces. Oscar and Lucinda, a film receiving lukewarm reviews and little business in theaters, has little chance of winning, but designer Janet Patterson (who also worked with director Gillian Armstrong on Portrait of a Lady, and designed the costumes for Jane Campion's The Piano -- both of which received Oscar nominations) shows a wonderful feel for adding to a characterization through garments, as well as a sure knowledge of historical costume. Lucinda (portrayed by Cate Blanchett), as a very individualistic, independent, and wealthy 1860s entepreneur, wears the practical designs of Amelia Bloomer, four of which are on display here. Each garment is richly embellished with applique or embroidery, and includes a smart matching hat which the character uses almost as a signature. The workmanship on each garment is impeccable.

Moving around the room and the world, we find the designs created by Dante Ferretti for Kundun. These use rich brocades with decorations of turquoise, coral and feathers, to recreate traditional costumes of Tibet. The styles are surprisingly varied: some pieces resemble Chinese coats; others approximate the Japanese men's kimono. Elaborate and massive headpieces complete the collection. Ferretti has received previous Oscar nominations for Art Direction with such films as The Age of Innocence and the 1990 Hamlet; this is his first for costume design.

Ruth Carter's costumes for Amistad are frankly uninspired, and suffer in the company of their fellow nominees. Carter was nominated in 1992 for her work on Malcolm X, and her credits are largely for contemporary settings; perhaps she was not as comfortable creating 1839 fashions. On display are two men's ensembles, including a suit for Baldwin (played by Matthew McConaughey) with a long overcoat, which appeared to be made from fake fur turned inside out. Two women's garments (one of these was the young Spanish Queen Isabella's coronation gown) were very sketchily period, and the fabrics and trims used could be found in any mall fabric store. (And at least one of the gowns had a zipper closure!) These are serviceable costumes for a period film, perhaps, but hardly deserving an Oscar nomination.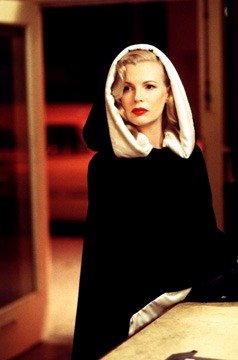 Next in our progress around the display are three of Kim Basinger's gowns from L.A. Confidential -- creamy satin and chiffon bias-cut creations for Lynn Bracken, her Veronica Lake look-alike character -- plus the stunning black hooded cape lined in off-white satin. Simple in comparison with the embellished Victorian or beaded Edwardian costumes, these pieces nevertheless added an important element to the wonderfully successful 1950s period look of this film. These costumes by Ruth Myers, who was nominated previously for Emma and The Addams Family, probably deserved an Oscar nomination.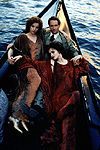 The real riches of the FIDM exhibit are placed up front (but I deliberately saved them for last). Two films set in the early twentieth century, The Wings of the Dove and Titanic, have done an outstanding job of recreating the elegance of pre-World War I fashion, and the displays -- six full ensembles from each film -- are the highlight of the show. Sandy Powell's creations for The Wings of the Dove showcase the styles of several 1910 fashion luminaries, such as Paul Poiret's wonderful shaped coats and Fortuny's pleated Delphi gowns and vibrant colors.

Several exquisitely tailored suits trimmed to perfection, included in this display, practically serve only as hat stands for the haberdash wonders worn by Helena Bonham Carter and Alison Elliott in the film. Powell's credits include work on Interview with the Vampire and Rob Roy, with an Oscar nomination for Orlando.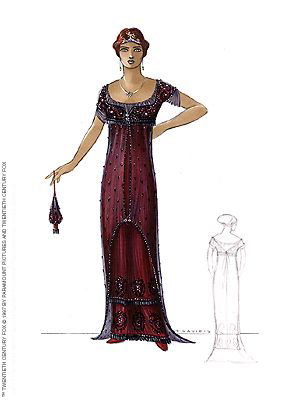 Having the Titanic gowns in close proximity to those from The Wings of the Dove is a treat, because it demonstrates the variety of fashions within a period. Where Powell focused on the Orientalism of designers such as Poiret, with their use of striking colors, Eastern shapes, and stylistic embroidery, Deborah Lynn Scott's gowns created for Titanic show more of the subtle flowing lines of Lucile or the Callot Soeurs, emphasizing the elaborate beading used to make a simple shape spectacular. Three of Rose's beaded gowns (including the red gown in which she almost jumps ship -- trust me, she would have gone straight to the bottom!), the stylish purple striped suit and matching hat worn in her "entrance" scene at the dock, and two men's outfits (Cal's "boarding suit" and a tuxedo) are displayed. The workmanship for all of the pieces is extraordinary, the beading simply stunning. In sheer scope, this project was an impressive achievement; over 300 extras as well as the principal actors had to be clothed in 1912 fashions, from the highest in society to immigrants, stewards, and the ship's crew. Period garments were collected and studied, and pieces of trim or beading sometimes salvaged for use on a gown being created for one of the characters.


To the delight of costumers, the Titanic creators were also obsessed enough with the details of the production to provide costume sketches and background information in a beautiful book, James Cameron's Titanic by Ed W. Marsh (New York: HarperCollins, 1997). Available in both hardcover and paperback, this belongs on the shelf of movie costume fanatics along with Coppola and Eiko on Bram Stoker's Dracula (Francis Ford Coppola and Eiko Ishioka, San Francisco: HarperCollins, 1992) and The Age of Innocence (Martin Scorsese and Jay Cocks, New York: Newmarket Press, 1993).

I'd be happy enough to see Sandy Powell take home the gold naked guy (do you think Edith Head ever made little outfits for her collection?), but Titanic deserves this honor. The amazing success of this film is due in part to the meticulous work of the entire production crew, and Deborah Lynn Scott's accomplishments in recreating an entire place and time are most worthy of an Academy Award. This is Scott's first Oscar nomination; her previous credits include Legends of the Fall and Back to the Future, and she is currently working on the upcoming film version of The Wild, Wild West.



So, what was left out this year? There were no original costume interpretations in 1997 (as Angels and Insects or Romeo and Juliet did in 1996); the accomplishments were in meticulous historical recreations, instead. Science fiction? I had hopes for Jean-Paul Gaultier's costumes for The Fifth Element, but was disappointed: there was no style, just a mishmash of bizarre pieces that seemed to make the actors wearing them go mentally ballistic. The blue alien diva was interesting, but I've seen better construction on novice masquerade costumes. The Men in Black were more interesting than the futuristic garb in Gattaca (that's not a compliment!), and let's not even talk about Batman and Robin or The Postman, okay?

The Fashion Institute of Design and Merchandising's Sixth Annual Art of Motion Picture Design Exhibit runs through April 9th. FIDM is located at 919 S. Grand Avenue in Los Angeles; check out their web site, http://www.fidm.com/, for more information on hours or location.


---

Titanic Costume Photos

Photos of the Titanic costumes from the FIDM exhibit, taken by Zelda Gilbert of the Costumers' Guild West. Also photos of actual period garments, from the FIDM collection. Thanks, Zelda!!

---

Return to Celluloid Wrappers.