Oscars '99: All the World's a Stage...
by Eleanor M. Farrell

The 71st Annual Academy Award presentations are less than a week away; wardrobe frenzy has overtaken all of Hollywood except for an army of little gold men waiting to be handed out to the winners. This year's nominees for Costume Design offer an interesting mix of historical adaptations spanning five centuries but concentrating on two countries: England and the U.S.: dueling Elizabethans (Shakespeare in Love and Elizabeth), a 1950 sitcom fantasy (Pleasantville), the late 19th century South (Beloved), and the world of 1970s glam rock (Velvet Goldmine). The three British and two American designers all have impressive film credentials, but none has yet won the costume design Oscar.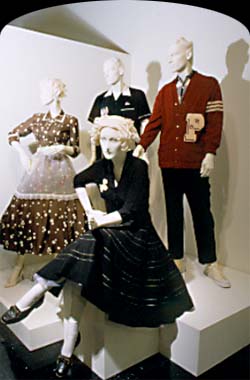 For the seventh year running, the Fashion Institute of Design and Merchandising in Los Angeles has mounted their Art of Motion Picture Costume Design Exhibit which features pieces from a dozen films released in 1998, including the five award nominees. Curator Maggie Murray has an uncanny knack for knowing which movies will get costume nods, as arrangements for the annual exhibit must be well in hand before the nominees are announced, although her criteria for selection is just choosing good examples of film design. This year's collection also showcases costumes from Babe, Pig in the City --including three chimp outfits for which FIDM had to borrow stuffed toys to model, The Man in the Iron Mask (by three-time Oscar winner James Acheson), Blade, Dancing at Lughnasa, Lost in Space, Ever After (Cinderella slippers and masks from the ball scene), and The Mask of Zorro. Well worth a trip to LA, the exhibit is a gorgeous treat, not to mention a chance to scrutinize seams and check out intriguing embellishments that receive too little screen time.

First time nominee Judianna Makovsky had a unique problem for the 1990s: making sure her costumes for Pleasantville worked in black and white, as well as in the fim's color scenes. Her designs ("one step beyond Donna Reed") reflect the subtle shifts in each character's emotional state through the story, such as Betty's transition from wide and dramatic to pencil-slim skirts. The costumes on display demonstrate the strikingly '50s colors (salmon, canary yellow, turquoise) and prints, as well as the predominance of frilly aprons, poodle skirts and bowling shirts. Makovsky's previous credits include Big and the TV miniseries Wild Palms.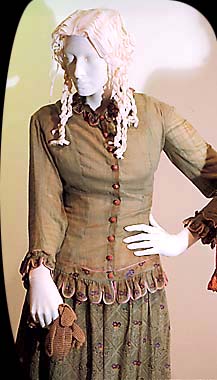 Colleen Atwood's costumes for Beloved use a tight palette of browns and oranges, which compliments the tone and art design for the film. In addition, Atwood's expertise in aging and distressing garments is put to excellent use with these pieces. A close look shows the immense amount of work involved in taking historically accurate lines and fabrics and creating garments that show wear, repair and modification during their use. Previously nominated for Little Women, whose designs also reflect the everyday clothing of a working class family, Atwood shows an effortless feel for the mid- to late nineteenth century styles.

Alexandra Byrne's designs for Elizabeth are striking and definitely not historically accurate.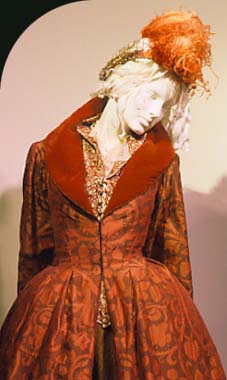 The coronation and "icon" portraits of Elizabeth were used as visual landmarks for the film, but (according to production notes published on the film web site) the designer, who has a previous Oscar nomination for the Kenneth Branagh Hamlet, strove for a "T-shirt and jeans" everyday style, with an overall look of having the French in blue and the English in brown. The movie's costumes match the dark visual design, as well as the script's idiosyncratic presentation of Elizabethan history; unfortunately this approach seems to have had a largely negative effect, despite some excellent performances from the cast. Seven costumes from the film, including three representative men's outfits and four of the Queen's gowns, are displayed in the FIDM exhibit. They are beautifully constructed, with exquisite fabrics and trims; nary a cartridge pleat nor a farthingale in view. In fact, several of the gown designs are more reminiscent of the 18th century.


Sandy Powell, who has previous Oscar nominations for Orlando and last year's The Wings of the Dove, competes against herself this year with two films nominated: Shakespeare in Love and Velvet Goldmine (she also costumed Hilary and Jackie, another 1998 release: busy woman!). The outrageous outfits for the glam rock film are among its highlights (and definitely more consistent than the confusing plot): metallic stretch fabrics, platform boots in distinctly unnatural colors, and lots and lots of sequins and glitter. Interestingly, a comparison of design elements for Powell's two films on exhibit show a convergent theme: the use of feather headdresses favored by both Queen Elizabeth and Brian Slade.

With 13 Oscar nominations, Shakespeare in Love is probably the front runner for this year's Costume Design award. More historically accurate -- and more fun -- than those for Elizabeth, the costumes also have a "lived in" look: Will Shakespeare runs around London in the same green leather doublet throughout the film (except when he is playing Romeo on stage), getting more and more dusty as the story progresses. A particular treat is a look at Elizabethan actors in performance, with the stylized costumes troupes might have used to create a visual world for their audiences. Beautifully constructed, Powell's designs -- besides Shakespeare's costume, ensembles for Viola and Wessex, plus Queen Elizabeth's peacock gown with a bodice embroidered to match the feathered headdress, are on display -- include lavish embellishment with pearls and sequins, rich fabrics and exquisite embroidery. Great boots, too (though not as cool as those worn by those stylish musketeers!).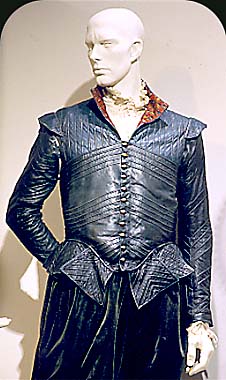 I was fortunate to make my FIDM visit the day of the "What Makes an Academy Award Costume?" workshop held in conjunction with the Oscar exhibit. Alan Armstrong, from FIDM's theater design faculty, gave a delightfully anecdotal lecture on designing costumes for film, partly oriented to discourage anyone from pursuing this field without the proper level of insanity. After giving an overview of the qualifications for becoming a film designer and its particular rewards ("You won't have time to have children but that's okay because you'll be working with actors..."), Alan talked about several individual designers and their work (complete with horror stories). Finally, he described the FIDM exhibit coordination and highlights, and conducted a tour of the display.

Which film should win the Costume Design Oscar? It's a difficult choice, as all of the nominees are well-chosen and each designer shows a different approach to costuming for film. Whatever the result on March 21st, part of the excitement of watching movies in 1998 was the emphasis on coordinating costumes into the overall production design, theme, characterizations and script for each movie, increasing the audience enjoyment of the overall experience. That's quite an accomplishment!


---
The Fashion Institute of Design and Merchandising's Seventh Annual Art of Motion Picture Design Exhibit runs through April 16th. FIDM is located at 919 S. Grand Avenue in Los Angeles; check out their web site, http://www.fidm.com/, for more information on hours or location.


---

Return to Celluloid Wrappers.