Summer 2000:
The Hollywood Wayback Machine
by Eleanor M. Farrell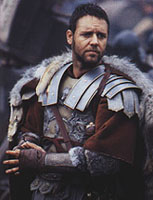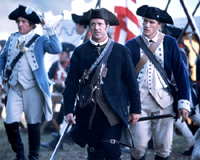 Alongside the expected presence of superpowered mutants, motorcycle ballet, aliens with really bad hair, and tunneling chickens, the surprise of this summer's blockbuster film season is the buzz surrounding two big-budget historicals. Gladiator, Ridley Scott's audacious resurrection of a genre which most filmmakers would consider dead and buried since those Airplane! references, was a pre-season box office stunner, while the June 30th debut of The Patriot is building up audience anticipation. Both films make use of technological advances to create authentic period looks on an epic scale. And -- not that either Mel Gibson or Russell Crowe require costumes at all to fuel a film -- both productions have invested considerable time and effort into costume research to ensure a proper period look.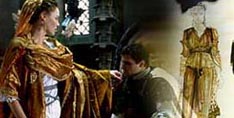 Director Ridley Scott, known for his cinematic world-building; enlisted the talents of production designer Arthur Max and costumer Janty Yates, augmented by a prodigious amount of computer wizardry, to recreate the grandeur and brutality of ancient Rome. From its opening battle scenes at the Empire's borders, the filmmakers' attention to detail makes this revenge epic a feast for the eyes.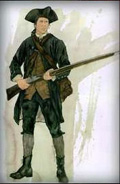 The Patriot filmmakers obtained an unprecedented partnership with the Smithsonian Institution serving as an advisor to the film. Their extensive resources and facilities assisted the film crew's efforts to recreate the details of Revolutionary War times in South Carolina, where the film is set. Costumer Deborah Lynn Scott is no stranger to period films, as her Oscar win for Titanic ably demonstrates. Battle scenes for the movie enlisted the help of local re-enactors, who are known for their passionate attention to detail and willingness to spend long hours lying on wet ground, faces coated with black powder, simulating battle victims.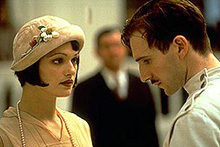 Once you've become sated with widescreen carnage and historically-generated pyrotechnics, there are also a few art house period releases due this summer. Solomon and Gaenor, a "Romeo and Juliet" romance set in Wales in 1911, is filmed in Welsh and was one of this year's Oscar nominees for best foreign film. It stars Ioan Gruffudd (best known for his portrayal of the young Horatio Hornblower in the recent A&E miniseries) and Nia Roberts, with costumes by Maxine Brown. Ralph Fiennes plays three -- count 'em! -- roles in Sunshine, a Hungarian family saga spanning the first two-thirds of this century which has gotten film festival raves, and was awarded the Genie Award (Canada) for 1999 Best Picture. Other cast members include William Hurt, Rosemary Harris and Rachel Weisz.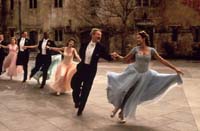 Kenneth Branagh's newest Shakeapearean outing, Love's Labour's Lost, is now showing to mixed reviews for its "Busby Berkeley-esque" song and dance approach. At any rate the 1939-era costumes from Anna Buruma are gorgeous to look at.... Last and probably least, the newest gang of young TV guns, headed by Vincent Spano and James Van Der Beek, takes Horatio Alger's advice and joins the 1875 Texas Rangers.

More ...



Kyrsten Comoglio reviews The Patriot
Official Film Web Sites

Gladiator
Splashy but easy-to-navigate site offers lots of Quicktime and audio clips, plus an assortment of costume sketches accompanying stills of the actors wearing the creations by Janty Yates.

The Patriot
The official site from Sony Pictures offers an impressive presentation of historical and production background for the film, including costume stills and sketches. Be sure to check out the amazing links section, which includes listings of museums and period resources, a slew of re-enactment web sites, and even fan sites for the film and actors.

Solomon and Gaenor
Your basic web calling card, with some stills but little detail.

Sunshine
The Paramount Classics site in English includes the usual background stuff. There's also an official German site at Sunshine, which at least mentions the costume designer, Györgyi Szakács.

Love's Labour's Lost
Attractive site with lots of stills showcasing Anna Buruma's costumes.
More Web Resources

Capturing America's Fight for Freedom
Short article detailing the Smithsonian's participation in researching history for The Patriot; from the July issue of Smithsonian magazine.

"Rise of a Digital Empire" by Douglas Bankston
On-line version of American Cinematographer's coverage of Ridley Scott's Gladiator

American Cinematographer May 2000 Online Features
Three additional articles on the production design, directing, and cinematography of Gladiator.

Not Such a Wonderful Life: A Look at History in Gladiator
IGN FilmForce article on the Ridley Scott-helmed film

Finally! Concentrating on the important aspects of summer blockbuster mania, Entertainment Weekly's web site offers a poll on the best and worst of Flick Fashions. Both Gladiator and The Patriot are included among the candidates.



Duel Roles
Entertainment Weekly Online article contrasting Hollywood's mightiest swordsmen; vote for your favorite.

Petticoats and Politics: The 18th Century in Film

Don't forget to check our Links section for some wonderful collections of web resources on historic costume.

Offline Miscellany

Books

The Patriot: The Official Companion by Suzanne Fritz and Rachel Aberly. Carlton Books, July 2000. ISBN 1842220764 (tp 96 pp. $19.95).
The official movie tie-in comes complete with stills from the set, special in-depth interviews with the cast, director and producers, and information on how the Smithsonian Institute helped oversee the production for historical accuracy.
Gladiator by John Logan and David Franzoni. Newmarket Press (Newmarket Pictorial Moviebooks), October 2000. ISBN 1557044317 (160 pp, tp, $19.95) / ISBN 1557044287 (160 pp, hc, $32.95).
The official full-color companion book, featuring excerpts from the screenplay, historical sidebars and illustrations, details on period costumes and epic set designs, behind-the-scenes photographs from the location filming, and interviews with the screenwriters, actors, and director. Inexplicably, this is listed as an October 2000 publication, but may be available earlier based on the film's success.
Past Imperfect: History According to the Movies, edited by Mark C. Carnes, Ted Mico and John Miller-Monzon. Henry Holt, 1996. ISBN 0805037608 (tp), $17.95.
Scholars explore the filming of history in essays ranging from Jurassic Park to Apollo 13. Entries look at plot, costume design, technology, and character portrayals, examine the historical aftermath of events in the film, juxtapose film stills with historical paintings and photos, and suggest background reading.
Out of print but worth looking for:
The Hollywood History of the World by George MacDonald Fraser. New York: William Morrow, 1988. ISBN 0-688-07520-7 (hc).

Hollywood and History: Costume Design in Film by Edward Maeder. New York: Thames and Hudson, Inc. (Los Angeles County Museum of Art), 1987. ISBN 0-500-01422-1 (hc).
Magazine Articles

General coverage and reviews of current films can be found in a wide variety of general and film-oriented magazines; check your newsstands. The May issue of Premiere published a feature article on Gladiator.

Smithsonian, July 2000: The Institution's participation in the making of The Patriot is chronicled.

The May 2000 issue of American Cinematographer features Gladiator.

The July 2000 issue of Movieline has an article titled "The Gladiator Effect" correlating the film's designs with modern fashion. Includes quotes from costumer Janty Yates and some nice photos of Lucilla's costumes from the movie.

TV/Video

HBO's half-hour "First Look" series usually features a film just before its theatrical release. A segment on Gladiator aired in May; another for The Patriot started airing June 20th. E! has a similar regular feature, called "Behind the Scenes."

The big spring/summer screen winners are headed to smaller screens: The Patriot in October, Gladiator in November -- both can be pre-ordered from Amazon.com and other online DVD/video sources. The Gladiator DVD, in particular, promises to be a treat: 2 discs including commentary from the director, cinematographer and editor, the "Making of" HBO special, a second featurette from the Learning Channel, and over 30 minutes of footage deleted from the final film.





Return to Celluloid Wrappers