Television costume design (as with just about every aspect of TV production) is usually treated as a poor and rather tasteless younger step-sister of theatrical film. The demands of filming weekly episodes of a TV series, as well as a more restricted budget, do limit the possibilities for costume design. However, the accomplishments and trends show a parallel development to those of movies in the 50 years that television has evolved into the popular and omnipresent entertainment venue it exists as today.

Along the way, several television trends highlight the importance of costume design to this media. These include: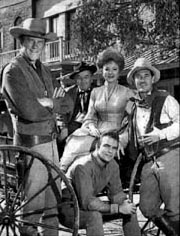 Westerns: in the 1950s, the Western reigned supreme in TV-land, inspiring a generation of children who wore coonskin caps and fringed jackets and carried toy rifles to bed at night, in case of Indian attacks. By today's standards, the costuming for Gunsmoke, Bonanza and their companions was wildly inaccurate -- but then, so was much of the 19th century Western apparel created for theatrical films made during this period.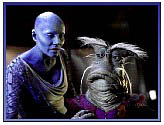 Science fiction: Star Trek premiered in the late '60s and although the series had limited success during its first run, it spawned other science fiction series such as Space 1999, Lost in Space and Battlestar Galactica, and eventually metamorphosed itself into a continuing franchise of four television series and 9 films to date. William Ware Theiss, the original ST costume designer, and his successor Robert Blackman both won Emmys for ST:NG in 1988, 1992 and 1993, while Jean-Pierre Dorleac's designs for Battlestar Galactica won him a statuette in 1979. British SF/F offerings from the 1960s -- including The Avengers, Doctor Who and The Prisoner -- reflected more of the Mary Quant mod look than the 50s B movie and Frederick's of Hollywood-inspired alien babe-ware that permeated early Trek episodes. Newer SF offerings, such as Babylon 5 and Farscape, have spent more energy (and money) on creating unique and imaginative costume designs for their futuristic universes and characters.
Designs for the Rich and Famous: In the 1980s, haute couture took its place in the centerpieces of American series television, night-time soap opera, dressing the Ewings and the Carringtons in designer gowns and tons of jewelry. And hats. Nolan Miller's creations for Dynasty -- which on one occasion were dragged through a famous watery cat-fight between Alexis and Krystal -- garnered him four Emmy nominations between 1983-1986, while William Travilla's work (after designing
about a billion noir and B movies in the 1950s) on Dallas was also worthy of note. Robert Turturice had more fun with his costumes for Moonlighting, which shifted from classy chic outfits for star Cybil Shepherd to playful historicals for episode pastiches of film noir and Shakespeare.
Miami Vice: This series was a fashion trend all by itself. Director Michael Mann's use of pastels and neon complimented casual unstructured Armani jackets, and lead to a boom in sales of sunglasses and a drop in those of socks. Series designer Jodie Tillen was nominated for an Emmy in 1985 but her show lost to Dallas. Tillen also did the wonderful '50s duds for Private Eye, a 1987 series with a very short run but very cool clothes.

One touchstone in looking at the history of TV costume design is the Academy of Television Arts & Sciences awards -- the Emmys -- made in this category, which were first presented in 1970. The costume Emmys are more peculiar than the Oscars, including separate categories for specials, TV movies, or miniseries programs, or awards for series "costuming" and "costume design" that are actually given for individual episodes. Most of the early costume kudos, as can be expected, were presented to variety shows. Bob Mackie's designs for Carol Burnett, Cher, Diana Ross, and other stars of singing-dancing-comedy extravaganzas added a festive touch to the programs, and Mackie has earned 30 Emmy nominations and 7 awards for his efforts over the last three decades.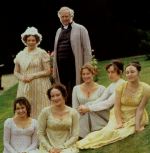 Other popular Emmy choices are awards for historical television films and miniseries, including many of the British adaptations of historical novels and royal biographies (Pride & Prejudice, The Jewel in the Crown, Elizabeth R), which are mainly shown on PBS (and, more recently, A&E) networks and are considered excellent examples of historical costume for any film media. In fact, several prominent movie designers, including Charles Knode, Theodora Van Runkle, Jenny Beavan and John Mollo, have also done award-winning work for the small screen.

As authenticity in costuming for the silver screen has improved in recent years, so have design efforts for television programs. Older movies and TV have always been excellent sources for studying contemporary costume ('30s romantic comedies and '50s family-oriented sitcoms being prime examples), while programs set in the past are usually a bit dodgy. Recent made-for-television historicals made in the U.S. have demonstrated a marked improvement in the last decade or so, as both the filmmakers and the audience demand better production values. Even series TV has evolved from the cheesy Westerns of the 1950s to more sophisticated costuming for period settings, among the toughest shows to produce under limited budgets. The regular viewer will notice that such programs are small in number, especially compared to shows set in our own time, but what does air generally does not insult the intelligence of a historically-informed audience.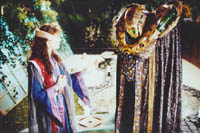 More recent Emmy presentations have lauded a variety of innovative costuming but (as with the rest of these awards) generally ignore the smaller networks. The movie/special/miniseries category winners are usually not too incomprehensible: Alice in Wonderland (with Charles Knode's Tenniel-inspired costumes) and Merlin won the miniseries category for 1998 and 1999, beating out some worthy competitors such as Horatio Hornblower and Snow White: A Tale of Terror. But the TV series nominees are conspicuous for the absence of some of the most innovative current television costuming. Babylon 5 was never nominated for a costume Emmy; nor was The Adventures of Brisco County, Jr. And what about Xena: Warrior Princess? Ngila Dickson's wonderful pieces have gotten better and better as the show's heroines have expanded their travels to visit India, China and Mongolia; plus, you gotta love the idea of dressing Aphrodite straight out of a Victoria's Secret catalog. I guess we should be grateful the television academy isn't giving awards for outstanding achievement in the design of hospital scrubs.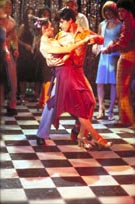 The hottest new designer in series television today seems to be Melina Root, whose costumes for 3rd Rock from the Sun and That '70s Show have been big hits. I'd think that any viewer who thinks he/she wants to return to the disco era would be deterred by just looking at those itchily authentic polyester monstrosities, but there's just no accounting for taste. With the huge popularity of retro fashions, it's fun to see well-researched examples of clothing spanning the past few decades, but I don't envy future costume historians who might try to use Buffy the Vampire Slayer episode archives to determine a late 20th century "look." Be that as it may, television is still a valid reflection of our culture, and costume design for the media an important part of showing how we dress, or how we think we used to dress.