Review: Titanic On Tour
by Eleanor M. Farrell
A handful of Paramount theme parks are featuring a special touring exhibit which will cycle through five locations through October 1998. Titanic On Tour is an impressive undertaking, 15,000 square feet of props, sets, and costumes from the Oscar-winning 1997 blockbuster. I caught the exhibit at Paramount's Great America in Santa Clara in June; it opens next in Cincinnati, Ohio. Included in the display is the 44 foot model of the Titanic, one of several used for filming the movie, as well as a completely reconstructed set of Cal Hockley's sumptuous sitting room, the captain's bridge, and several smaller set pieces. Aficiandos will also be able to view the Renault touring car (sans steamed windows), the safe Cal lugged aboard for storage of his valuables, Jack's leather sketch case, a complete dining room place setting of recreated White Star Line cutlery, dishes and stemware, and -- of course -- the gaudy "Heart of the Ocean" necklace.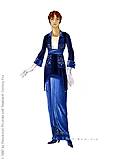 From a costume perspective, the exhibit is fabulous. Several sketches of principal costumes are on display, along with fabric and trim swatches used to create the garments used in the film. Over a dozen costumes are included in the exhibit, including some wonderful vintage pieces -- Rose's dressing gown is an exquisite concoction of lace and tucking -- and costumes incorporating pieces of period beading and embellishment. Accessories on display include a few vintage beaded purses, fans, eyeglasses and other items.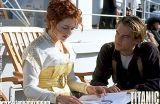 Designer Deborah Lynn Scott's costumes for Titanic incorporate a wide variety of period styles and touches, and the workmanship and detailing cannot be faulted. Visitors can get a close-up look at the boarding ensembles of both of the DeWitt Bukater ladies, mother and daughter. Several of Rose's other costumes are here: the yellow walking outfit she wears during her visit with Jack on the third class deck, the blue dress from the "flying" scene, the stunning beaded dinner dress, and her final ensemble donned after Jack finishes his sketch. (This is a lovely diaphanous chiffon dress, which definitely added to my respect for Kate Winslet's stamina in wearing this in the filming of the sinking scenes!) I believe the red beaded "jump dress" has been sold (alas!); at least, it wasn't included in this exhibit.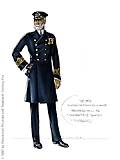 Several gowns worn by the denizens of high society (particularly during the dinner scene), embellished with beads, embroidery and trims, are on view, as are some dresses worn by third class passengers, which are also carefully constructed with period touches. (Even Cora's doll is included.) For the distaff side, Captain Smith's uniform, Cal's boarding ensemble, two of Jack's outfits and a couple of third class passenger suits round out the scope of the costume department's work.

Hopefully this collection of materials from Titanic will find a permanent home; the painstaking research and efforts that went into creating the authentic "look" of the film are worth preserving. I definitely recommend this exhibit to anyone who loved the period recreation in this film, if you are located near one of the various Paramount theme parks hosting the tour. My only complaint is that they played Celine Dion's "My Heart Will Go On" over and over (and on and on...) inside the facility. Guys! What about the rest of the soundtrack? or some of the wonderful period music available on CD? We obsessive costumers can tune out quite a few distractions, but I was ready to strangle Celine with that necklace....



John's Collections of Images has several pages of photos of the touring exhibit.



More Titanic madness...
---

Return to Celluloid Wrappers